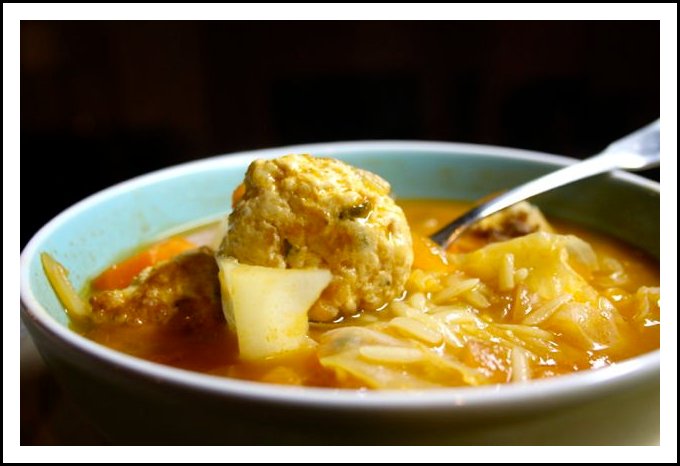 This soup is a nice mix of light and hearty. The broth is rather light, but then you have your hearty meatballs. We used Tony's delicious turkey meatballs for this soup.
Meatballs
20oz Package of ground turkey
1 Cup panko bread crumbs
1/2 Sweet Onion - Chopped
1 Egg - Beaten
Few fresh basil leaves - Chopped
4 Twists of fresh cracked pepper
Put all ingredients into a bowl and mix thoroughly with hands. Then round into golf-ball sized balls in your hand. Grease a large pan with Olive Oil and place all meatballs into the pan over medium heat. Flip and rotate as needed with tongs to get all sides browned and centers cooked.
To make Broth:
5 cups of water
4 teaspoons of Better Than Bullion, All Natural/Low Sodium Chicken Base
5 vine tomatoes
2 large carrots
1/2 sweet onion
1/4 head of cabbage
A few fresh basil leaves
Fresh parsley
Pinch of salt
Fresh cracked pepper
1/3 cup of orzo pasta
You should have your meatballs prepared and cooked first. Swirl the bottom of your pot with a little olive oil and add your broth. We made our broth using water and Better Than Bullion, All Natural/Low Sodium Chicken Base this time. Season it with a little black pepper and let it simmer while you prepare you veggies. We cut the tomatoes up and left them a little chunky for texture, then chopped up the carrots and cabbage and added them to the broth. Next, dice your onion and add it to the pot. We used probably about 4 basil leaves and a little fresh parsley. We chopped them up and added them to the pot. You can add the amount that you would like for your desired flavor. Then we seasoned with a little salt and fresh cracked black pepper. Finally, we added the meatballs and the orzo pasta and brought the pot to a boil and then down to a simmer (right under the boil point) for about 15 min. Then we let cook on the lowest heat until ready to serve.
[ 201 comments ]
( 13772 views ) |
permalink
|
print article
|





( 3 / 3842 )
---
<<First <Back | 1 | 2 | 3 | 4 | 5 | Next> Last>>