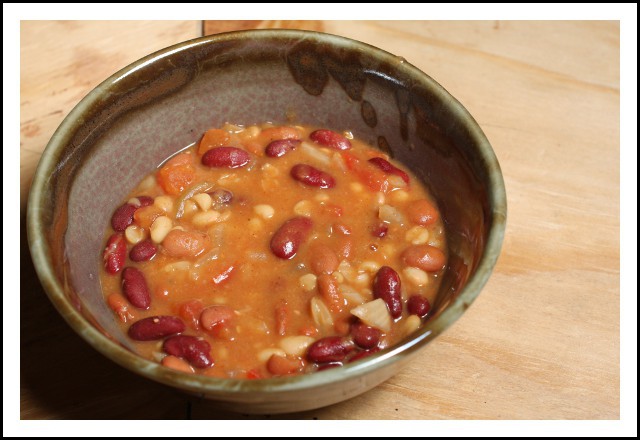 These beans are to die for! We really could not stop eating
them. We made ours a little more spicy than the recipe called.
It was the perfect combo of spicy and sweet. These beans can be
the perfect comfort food or a great cookout food when the warmer
weather comes around.
Recipe adapted from:
http://ohsheglows.com/2010/07/01/maple-baked-beans/
1 can of white beans
1 can of mild chili beans
1 can of dark red kidney beans
1/2 large sweet onion
3 tbsp maple syrup
1 tbsp brown sugar
2 tablespoons regular mustard
2 tablespoons apple cider vinegar
1 cup of diced tomato (1 medium sized tomato)
1 teaspoon sea salt
Several liberal dashes of Tapatio Hot Sauce and
Fresh cracked black pepper
We actually used our slow cooker to make these instead of baking in the oven. First rinse the white and kidney beans and add them to your cooker. Then add the mild chili beans. Dice the onion and tomato and add them to the beans. Then add the remaining ingredients to the mixture. We slow cooked on low heat for about 6 hours. You do not have to cook them for that long if you do not like.. As soon as the onions soften up you can go ahead and eat.
[ 60 comments ]
( 4064 views ) |
permalink
|
print article
|





( 3 / 3109 )
---
<<First <Back | 1 | 2 | 3 | 4 | 5 | Next> Last>>