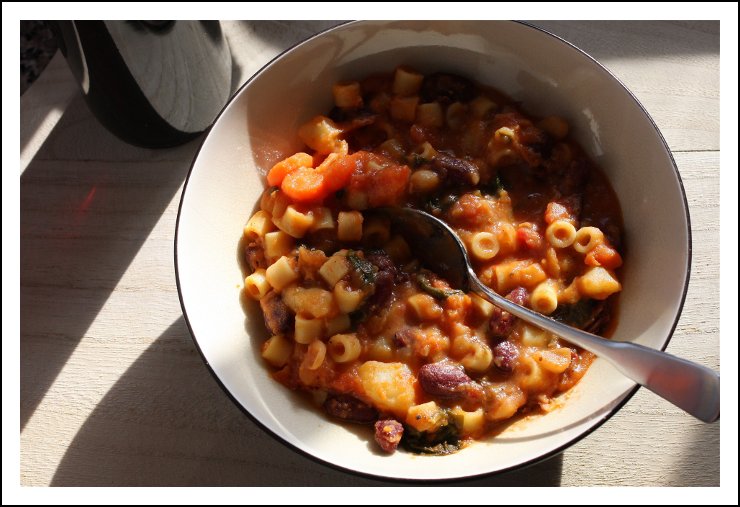 So, enough pretending it is summer with the ice cream. Time for some warm soup again! This minestrone turned out to be very delicious. You can add whatever you would like. This turned out to be a very hearty soup. Perfect for this winter weather!
7 cups of chicken stock
(We used 7 cups of water and Better Than Bouillon, All Natural/Low Sodium
Chicken Base to create the stock.)
1 sweet onion
2 cloves of garlic
3 large carrots
2 Red potatoes
4 vine ripe tomatoes
1 can of diced tomatoes (no salt added)
1 half of 15 ounce can of tomato sauce
3 cups of uncooked Spinach
1 can of Cannellini beans - Rinsed and drained.
1 can of Dark Red Kidney beans - Rinsed and drained
1/2 (maybe a little less than 1/2) box of Ditalini pasta
Season with:
Kosher salt
Fresh cracked black pepper
Red pepper flakes
Madras curry powder
Paprika
Start by simmering your chicken stock on the stove. While it is simmering dice your onions, slice your carrots, crush your garlic, and add them to the pot. Then add the half can of tomato sauce and let the mixture cook on low to medium heat. Next add your diced tomatoes, potatoes, spinach, and beans. Keep the mixture on medium heat until your potatoes start to soften. Then you can turn the heat low and let it cook for as long as you would like. I seasoned the soup with Kosher salt, fresh cracked pepper, red pepper flakes,
a touch of paprika and a touch of Madras curry powder. You can season with whatever you would like to cater to your taste. When you are ready to eat the soup turn the heat back up and bring it to a low boil adding the pasta. You can turn it back down to low when the pasta is starting to get to al dente status. Then continue to cook on low until the pasta is cooked to your liking. We topped our individual bowls of the minestrone with a little shredded parmesan cheese! Hope you enjoy!
[ 87 comments ]
( 3448 views ) |
permalink
|
print article
|





( 3 / 3233 )
---
<<First <Back | 1 | 2 | 3 | 4 | 5 | Next> Last>>