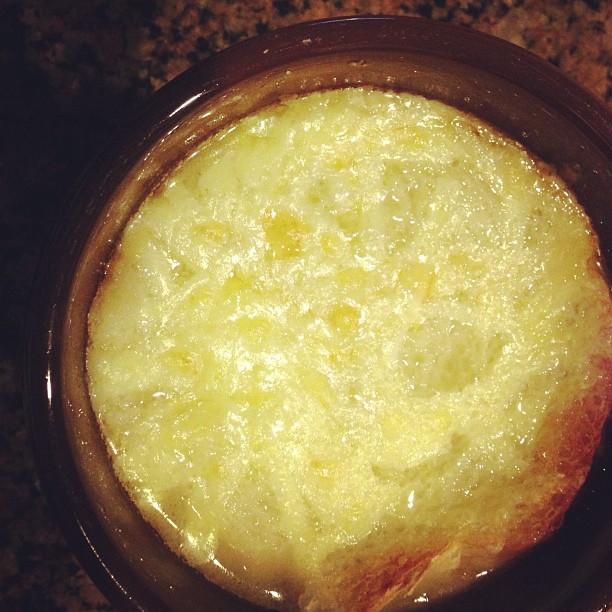 Cold nights are upon us now. Nothing says cozy warm like hot soup. Soup is pretty much one of our favorite foods, so you might see more soup recipes in the future. We took a little break from this blog, because I was experiencing allergic reactions. I was not sure what was causing them, but they were happening once a month, and caused my throat to swell. I had to cut a lot of foods out of my diet hence, the pause on the blog. We still do not know exactly what is causing the reactions. They have been diagnosed as idiopathic, and maybe just a combo of many things is causing them. The good news is that I have been having them less frequently. I have the confidence to cook more again, and have been adding some foods back into my diet. So here we are with French Onion Soup! I hope you enjoy. :)
4 - 5 sweet onions
Olive Oil
2 Tablespoons of Dark Brown Sugar
64 Ounces of Chicken or Vegetable Stock
2 Tbs of Brown Rice Flour
1/2 Cup of a Dry White Wine we used a Pinot Grigio
Salt and Pepper
Swiss Gruyere
Set crock pot to low or medium heat and add in the chicken or veggie stock, and rice flour. Slice and sauté onions in olive oil on low to medium heat. When onions start to become translucent add in the brown sugar and 1/4 cup of the of white wine, and turn up heat to medium - high. When onions start caramelize (you don't want them to get too brown, because they will cook more in the crock pot) remove from heat and add to the broth mixture in the crock pot. Season with salt and pepper, and add the other 1/4 cup of white wine to the crock pot. I also added a touch more brown sugar. Let the soup slow cook in the crock pot for 5 or six hours. Serve with toasty bread and melted Gruyere...unless you are gluten-intolerant like me. I just sprinkled some cheese on top instead. This soup actually tasted good enough to me that it could stand alone without the cheese or bread.
[ 387 comments ]
( 65374 views ) |
permalink
|
print article
|




( 3 / 3300 )
---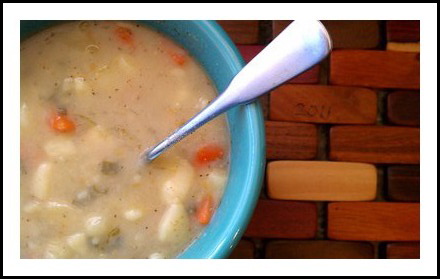 We were recently invited to an Oktoberfest potluck. I was really excited to make Kartoffelsuppe or German Potato Soup. I have made milk or cream based potato soups a lot in the past. This time I made a broth based soup instead. The soup was much lighter, and that made it all the more enjoyable for 80 degree weather! I ate the leftovers the next day. Let me tell you, this soup is even better the second day!
1 Quart of Chicken or Veggie Stock.
15 Small gold potatoes (Yukon Gold)
1 Large yellow onion
4 Carrots
10 green onions (we just used one small bundle)
First start heating the chicken stock in a large pot. Then boil 4 of the potatoes in a pot till they get very soft for mashing. While the potatoes are boiling, go ahead and saute the yellow onion in butter or your choice of oil. Once the potatoes are soft, mash them by hand or with a mixer, and add them to the stock pot along with the sauteed yellow onions. This will give the soup a nice texture. Dice the remaining potatoes, carrots, and green onions, and add them to that pot. Season the soup with sea salt, and black pepper. Let it cook slow and low until the carrots and potatoes are soft. Serve hot, and enjoy!
[ 188 comments ]
( 2679 views ) |
permalink
|
print article
|




( 3 / 5150 )
---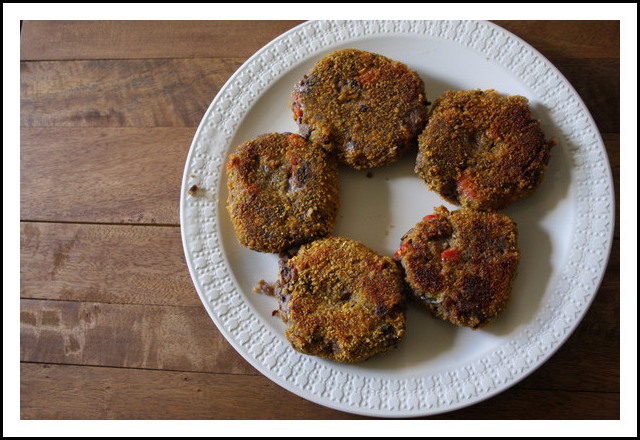 Two 15 ounce cans of organic black beans.
1 Cup of gluten free Corn Flake Crumbs (1/2 cup for beans, and 1/2 cup for breading)
1/2 of one large red onion
1/2 of one large red bell pepper
1/2 Cup of Brown Rice
2 Eggs
Cumin (Season to taste)
Chili Powder (Season to taste)
Cracked Black Pepper (Season to taste)
Sea Salt (Season to taste)
Drain and rinse beans well, and place in a bowl. Using a hand masher, mash beans coarsely. In a skillet, sauté the onions and red bell pepper in the oil of your choice until they are softened. Then add them to the bean mixture, along with 1/2 cup corn flake crumbs and the brown rice. Season mixture with Cumin, Chili Powder, Pepper and Sea Salt. Mixture should be firm. Form the mixture into small patties, about 1/2 inch thick. Place the remaining corn flake crumbs in a bowl, and put the two eggs in another bowl. Dip the cakes in the egg, and then coat them with the corn flake crumbs. In a large skillet using a small amount of oil, cook the black bean cakes until they are warm start to brown on the outside.
We served the black bean cakes over a spinach salad that was made with avocado, corn, and grape tomatoes. Enjoy!
[ 28 comments ]
( 5951 views ) |
permalink
|
print article
|




( 3 / 4802 )
---