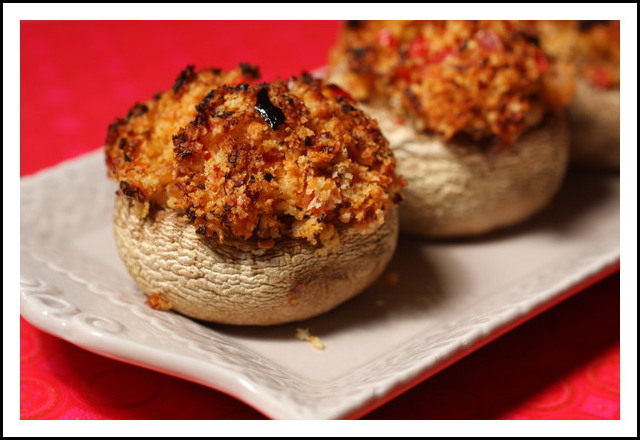 We had been craving stuffed mushrooms for some time. We kind of threw this together with what we had left over from previous meals. They turned out to be very tasty. We ate them for dinner with a spinach salad, but they would also make great party hors d'oeuvres.
6 Large white mushrooms
1 Clove of garlic
1/2 Red onion
1 Red bell pepper
2/3 Cup of Panko bread crumbs
Olive oil
Sea salt
Fresh cracked black pepper
Remove the bottom part of the mushroom. Dice the bottoms along with the garlic, red onion, and red bell pepper and saute in pan with a little olive oil, salt, and pepper. Then add the mixture to a bowl and mix with the Panko bread crumbs. The bread crumbs will soak up the moisture from the garlic, onion, and pepper mixture. With a spoon scoop the mixture into the mushroom caps. Place the filled caps on a cookie sheet and spray the tops of them with a little olive oil. Bake at 350 degrees for 15-20 minutes until golden brown and crispy on top.
[ 81 comments ]
( 12639 views ) |
permalink
|
print article
|




( 3 / 2293 )
---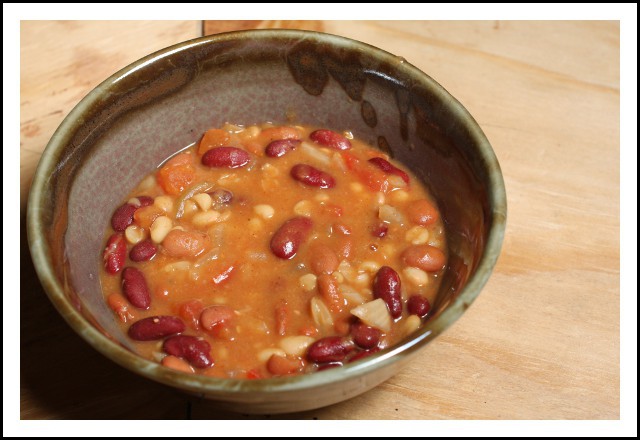 These beans are to die for! We really could not stop eating
them. We made ours a little more spicy than the recipe called.
It was the perfect combo of spicy and sweet. These beans can be
the perfect comfort food or a great cookout food when the warmer
weather comes around.
Recipe adapted from:
http://ohsheglows.com/2010/07/01/maple-baked-beans/
1 can of white beans
1 can of mild chili beans
1 can of dark red kidney beans
1/2 large sweet onion
3 tbsp maple syrup
1 tbsp brown sugar
2 tablespoons regular mustard
2 tablespoons apple cider vinegar
1 cup of diced tomato (1 medium sized tomato)
1 teaspoon sea salt
Several liberal dashes of Tapatio Hot Sauce and
Fresh cracked black pepper
We actually used our slow cooker to make these instead of baking in the oven. First rinse the white and kidney beans and add them to your cooker. Then add the mild chili beans. Dice the onion and tomato and add them to the beans. Then add the remaining ingredients to the mixture. We slow cooked on low heat for about 6 hours. You do not have to cook them for that long if you do not like.. As soon as the onions soften up you can go ahead and eat.
[ 60 comments ]
( 4064 views ) |
permalink
|
print article
|





( 3 / 2927 )
---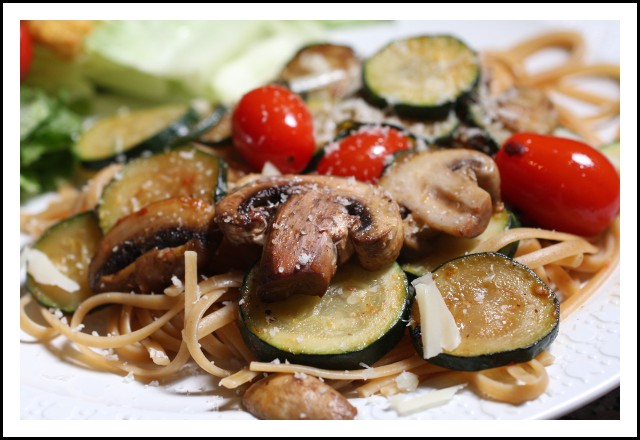 This recipe is from Tony. He whipped this up one day after work and it was delicious. Tony doesn't measure when he cooks so below you will see the ingredients and you can add as much of each one as you would like! Sometimes things are just better that way anyway!
Ingredients:
Zucchini
Grape Tomatoes
Mushrooms
Whole Wheat Linguine Pasta
Garlic
Olive Oil
Parmesan Cheese
In a pan add a little olive oil and two chopped garlic cloves. Then add in the sliced zucchini and mushrooms. After a few minutes add in the grape tomatoes.
Boil the whole wheat linguine and then add the it to the olive oil, garlic, zucchini, tomato, and mushroom mixture in the other pan. Top with some freshly grated Parmesan cheese and enjoy!
[ 189 comments ]
( 12573 views ) |
permalink
|
print article
|




( 2.9 / 368 )
---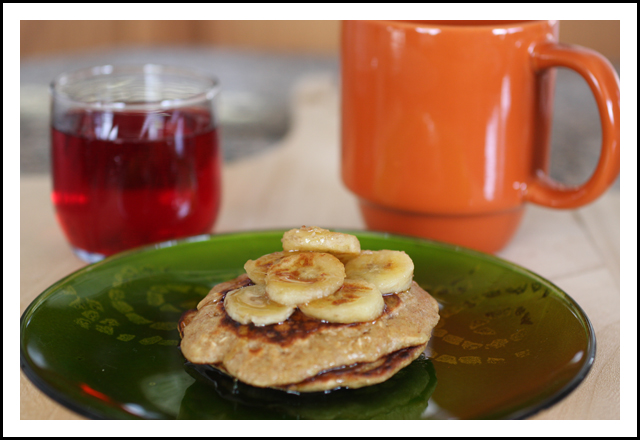 These banana pancakes turned out to be super delicious! I know, super, not
a sophisticated description word, but honestly though there is no other way
to explain them. Maybe you could add a "thumbs up" along with the word
super. Seriously, the combo of whole wheat, oats, and bananas was very
delicious. This is now our go to pancake recipe.
This recipe was adapted from:
http://www.cheekykitchen.com/2010/03/pe ... cakes.html
1 banana
1 Tbs. of butter
1/2 Cup of oats (The real deal, not the quick kind.)
1/2 Cup of whole wheat flour
1 Cup of organic soy milk
1 whole egg
1 tsp of vanilla
1/2 tsp of salt
1/4 tsp of cinnamon
and a dash of nutmeg (cinnamon and nutmeg, just add the amount that you
like)
Topping
Olive Oil
1 Banana sliced.
In a mixing bowl mash your banana, then add the rest of the pancake
ingredients and mix everything together. Then make your pancakes!
For the topping, slice up your banana and set it aside. Spray a pan with
olive oil and put on a low - medium heat. Place your bananas in the frying
pan and cook a few minutes on each side until brown.
[ 64 comments ]
( 5594 views ) |
permalink
|
print article
|




( 3 / 3136 )
---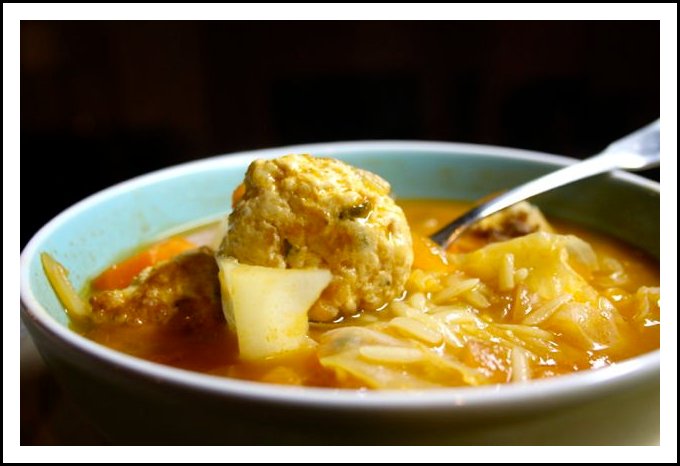 This soup is a nice mix of light and hearty. The broth is rather light, but then you have your hearty meatballs. We used Tony's delicious turkey meatballs for this soup.
Meatballs
20oz Package of ground turkey
1 Cup panko bread crumbs
1/2 Sweet Onion - Chopped
1 Egg - Beaten
Few fresh basil leaves - Chopped
4 Twists of fresh cracked pepper
Put all ingredients into a bowl and mix thoroughly with hands. Then round into golf-ball sized balls in your hand. Grease a large pan with Olive Oil and place all meatballs into the pan over medium heat. Flip and rotate as needed with tongs to get all sides browned and centers cooked.
To make Broth:
5 cups of water
4 teaspoons of Better Than Bullion, All Natural/Low Sodium Chicken Base
5 vine tomatoes
2 large carrots
1/2 sweet onion
1/4 head of cabbage
A few fresh basil leaves
Fresh parsley
Pinch of salt
Fresh cracked pepper
1/3 cup of orzo pasta
You should have your meatballs prepared and cooked first. Swirl the bottom of your pot with a little olive oil and add your broth. We made our broth using water and Better Than Bullion, All Natural/Low Sodium Chicken Base this time. Season it with a little black pepper and let it simmer while you prepare you veggies. We cut the tomatoes up and left them a little chunky for texture, then chopped up the carrots and cabbage and added them to the broth. Next, dice your onion and add it to the pot. We used probably about 4 basil leaves and a little fresh parsley. We chopped them up and added them to the pot. You can add the amount that you would like for your desired flavor. Then we seasoned with a little salt and fresh cracked black pepper. Finally, we added the meatballs and the orzo pasta and brought the pot to a boil and then down to a simmer (right under the boil point) for about 15 min. Then we let cook on the lowest heat until ready to serve.
[ 201 comments ]
( 13772 views ) |
permalink
|
print article
|





( 3 / 3569 )
---
<<First <Back | 1 | 2 | 3 | 4 | 5 | Next> Last>>