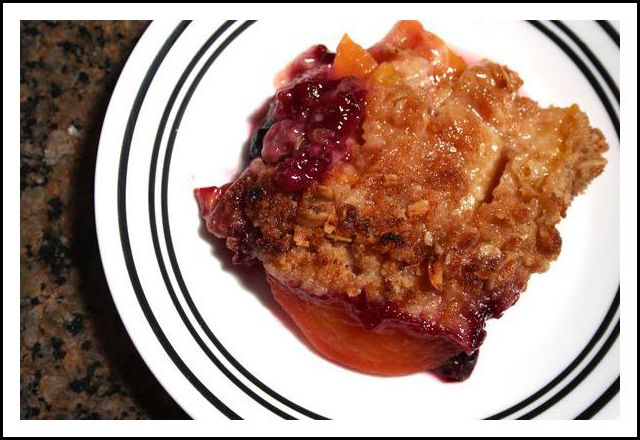 Summer is finally here! Last year I made fruit salad a lot with blueberries and peaches. It was always fresh compliment to our summer meals. I wanted to bring those summer flavors to a potluck in a new way. I love crisps, so I put them together in a crisp!
Filling:
6 or 7 peaches
1 cup of blueberries
1/4 cup granulated sugar
1/4 cup dark brown sugar
a bit of cinnamon to your taste
Topping:
1 cup flour
1/2 cup oats
1/2 cup granulated sugar
1/2 cup dark brown sugar
1/2 cup of butter
1/4 teaspoon of kosher salt.
cinnamon to taste
nutmeg to taste
Preheat oven to 350 degrees.
Peel and slice the peaches and put them into a large bowl with the blueberries. Mix the peaches and blueberries with the granulated sugar, dark brown sugar, and cinnamon. Pour the mixture into a baking dish, and set aside while you make the topping.
In another large bowl mix the oats, flour, granulated sugar, dark brown sugar, kosher salt, cinnamon, and nutmeg. Cut the butter into small pieces and gradually add it to the dry mixture. Cover the peach and blueberries evenly with the mixture.
Bake for about 15 minutes covered, and then remove cover and bake for about 30 more minutes or until the crisp is bubbling and brown on top.
[ 257 comments ]
( 55102 views ) |
permalink
|
print article
|




( 3 / 4670 )
---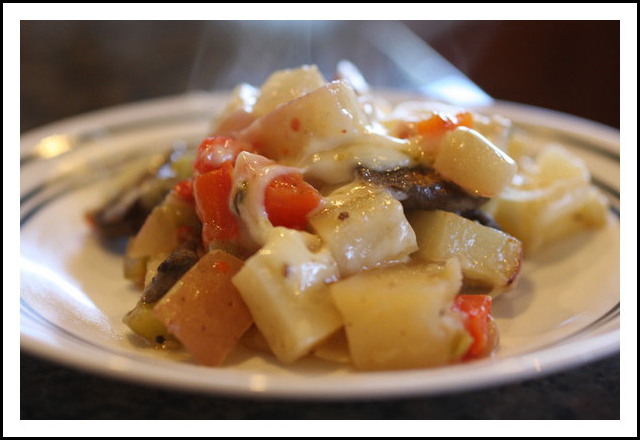 We recently took a trip to St. John's in Newfoundland, Canada. While we were there we ate a lot of comfort food, and that is what inspired this dish. It is a simple dish that can be eaten with dinner, or as a breakfast. It is easy to toss together and you can add in your favorite veggies for a nice comfort dish.
Cubed red potatoes
1 Chopped Red Pepper
1 Chopped Green Pepper
Fresh ground salt/pepper
1/2 yellow Onion chopped
Chopped mushrooms
Pepper Jack cheese
Chop up the potatoes leaving the skin on.
Put into a baking dish along with the chopped peppers, salt and pepper, onion and a little cheese
Add in a little crushed red pepper to give it some heat
Sprinkle some Extra Virgin Olive Oil and mix it all up.
Bake at 350 degrees for a 30 minutes or until potatoes are soft
Once the potatoes are soft to the touch, cover in cheese and cook another 10 minutes
[ 240 comments ]
( 23571 views ) |
permalink
|
print article
|




( 3 / 4750 )
---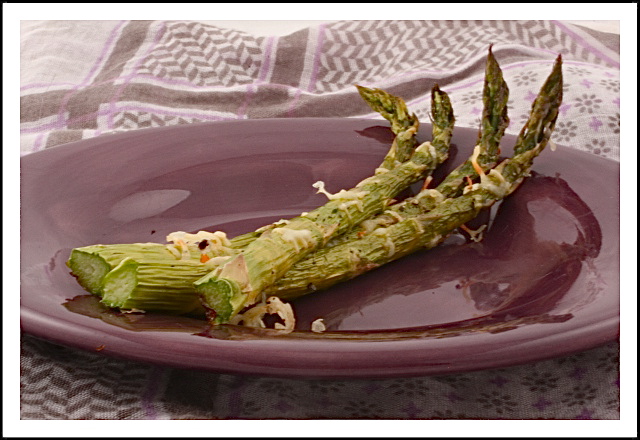 We just received our first Spring CSA basket. It came with a little bunch of asparagus! I am so excited for all of the fresh veg we will be getting in our baskets! This is something quick and easy you can cook up for a snack, lunch, or dinner. It is one of our favorites.
1 bunch of asparagus
Freshly grated parmesan cheese
Olive oil
Sea Salt
Black Pepper
This is a very simple recipe. Use a baking dish, or cookie sheet. Spray the bottom with a little olive oil. Lay all of the asparagus flat on the bottom. Then spray a little olive oil over top of the asparagus. Then sprinkle with little sea salt and fresh ground black pepper. Lastly top with the parmesan cheese. We do not add too much cheese, but you can add as much, or as little as you would like. Then bake at 350 degrees for about 20 min until the cheese is browning and the asparagus are soft, but have a little crisp.
[ 193 comments ]
( 2730 views ) |
permalink
|
print article
|




( 3 / 3377 )
---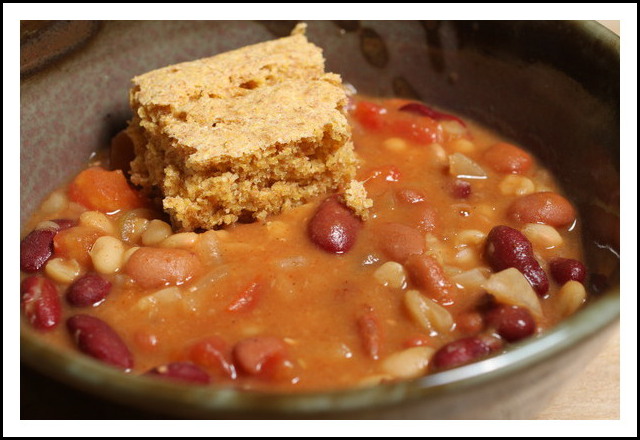 This vegan cornbread is very tasty. You will not miss the eggs and the milk at all. It had a great texture and really complimented our baked beans! I have seen variations using maple syrup to sweeten it up a little. I also think adding some corn to it would make it even better!
1-1/2 cups light soymilk
1-1/2 tablespoons apple cider vinegar
1 cup cornmeal
1 cup whole wheat flour
2 tablespoons raw sugar
3/4 teaspoon salt
1 teaspoon baking powder
1/2 teaspoon baking soda
2 tablespoons oil (we used vegetable oil)
Preheat oven to 425 degrees. In one bowl combine the soymilk and apple cider vinegar and let stand. In another bowl mix all of your dry ingredients. Then add the wet mixture to the dry mixture until blended. Spread the mixture into your pan. We sprayed our pan lightly with olive oil. Bake for 25-30 minutes. This is best served hot.
Recipe adapted from Food for Life, by Neal Barnard, M.D.
[ 72 comments ]
( 4023 views ) |
permalink
|
print article
|





( 3 / 3163 )
---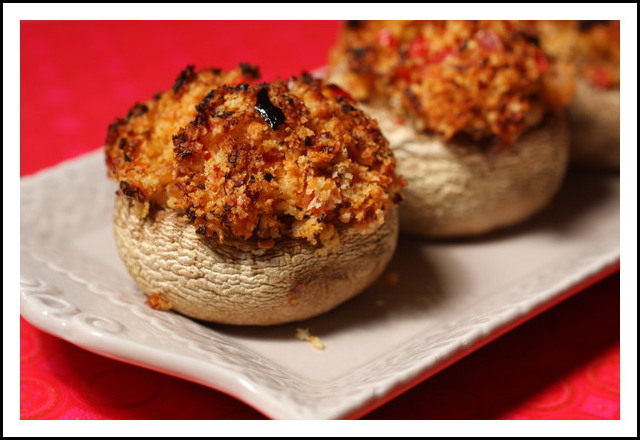 We had been craving stuffed mushrooms for some time. We kind of threw this together with what we had left over from previous meals. They turned out to be very tasty. We ate them for dinner with a spinach salad, but they would also make great party hors d'oeuvres.
6 Large white mushrooms
1 Clove of garlic
1/2 Red onion
1 Red bell pepper
2/3 Cup of Panko bread crumbs
Olive oil
Sea salt
Fresh cracked black pepper
Remove the bottom part of the mushroom. Dice the bottoms along with the garlic, red onion, and red bell pepper and saute in pan with a little olive oil, salt, and pepper. Then add the mixture to a bowl and mix with the Panko bread crumbs. The bread crumbs will soak up the moisture from the garlic, onion, and pepper mixture. With a spoon scoop the mixture into the mushroom caps. Place the filled caps on a cookie sheet and spray the tops of them with a little olive oil. Bake at 350 degrees for 15-20 minutes until golden brown and crispy on top.
[ 81 comments ]
( 12639 views ) |
permalink
|
print article
|




( 3 / 2540 )
---
<Back | 1 | 2 | 3 | 4 | 5 | Next> Last>>