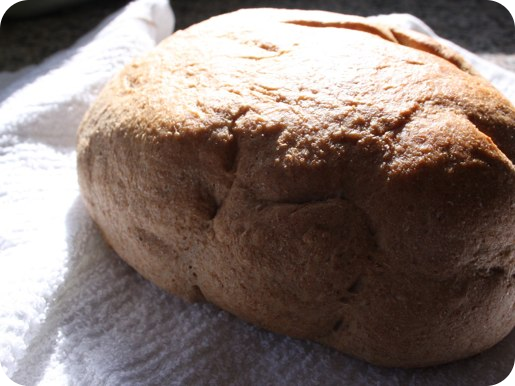 We made this bread for our Thanksgiving stuffing. This is a simple recipe that I found on
allrecipes.com
and altered slightly. I used about half of the honey that the recipe called for. I did not want a very sweet bread. I also used all whole wheat flour instead of part whole wheat flour and part bread flour.
Link To Original Recipe
[ 22 comments ]
( 1698 views ) |
permalink
|
print article
|
related link
|




( 3 / 248 )
---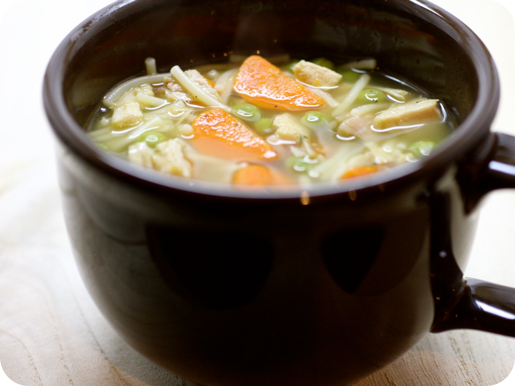 We made this soup using our left over Thanksgiving turkey. We smoked out turkey on the Big Green Egg. You could smoke turkey legs for this soup or just roast them in the oven. I didn't get to do a whole lot of measuring for this recipe. I just kind of played it by ear since we were using leftovers. So if you make this just adjust until you get the flavor you desire!
Chicken Stock - Organic, low sodium.
Smoked Turkey cut into small pieces
Fresh cracked black pepper
1/4 cup of green onions ( the green stalks)
2 cloves of minced garlic
4 large carrots
1 cup of peas
About 1/2 package of cut spaghetti noodles
In a large pot, combine Chicken stock, fresh cracked black pepper, garlic and green onions. Let this simmer while you cut up your turkey. Then add the turkey to the mixture and let it continue to simmer while you prepare your veggies. Once you have prepared your carrots and peas add them to the mixture. Let simmer on the stove for a few hours, until carrots are soft. Then bring it to a boil and add the cut spaghetti noodles. Once the noodles are soft it is ready to eat. This soup is so delicious! I can't wait to make it again using chicken.
[ 139 comments ]
( 10491 views ) |
permalink
|
print article
|





( 3 / 2915 )
---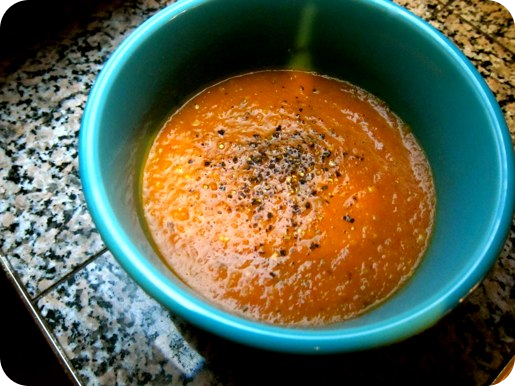 Vine-Ripe Roasted Tomato Soup.
Enough Vine Ripe Tomatoes to fill a baking sheet. (They will be cut in half)
1 bag of cherry or grape tomatoes
1/2 of a large red onion, diced
5 cloves of garlic
Fresh basil leaves
1/4 cup of olive oil
Freshly ground black pepper
Sea salt
1 cup chicken stock (or veggie stock)
Red pepper flakes
Madras curry powder
Cut the vine ripe tomatoes into halves and lay face down on the baking sheet along with the cherry tomatoes, diced red onions, garlic cloves, and fresh basil leaves, then drizzle with about 1/4 cup of olive oil. Then season (use your own discretion) with sea salt and freshly ground black pepper. Bake in the oven for about 1 hour at 400 degrees.
Next, put 1 cup chicken stock in a large pot on stove on the lowest setting. Remove the baking sheet from the oven and let cool for a few minutes. Then put mixture from the baking sheet into your food processor and add another small pour of olive oil. Use the pulse setting on your food processor until the mixture reaches the consistency that you prefer. Once you have the consistency that you like, pour into the pot with the chicken stock. Add a little madras curry power, sea salt, black pepper, and red pepper flakes...season to your taste. Let the soup cook slow on low heat until you are ready to eat. I would recommend at least one hour for all of the flavors to become friends!! Roasted Vine Ripe Tomato Soup.
[ 120 comments ]
( 9336 views ) |
permalink
|
print article
|




( 3 / 2674 )
---
<<First <Back | 1 | 2 | 3 | 4 | 5 |